Teamstrength Leadership Workshop 2015 – Superheroes of Leadership – provided members a unique opportunity in July to hear from two amazing leaders with very different backgrounds.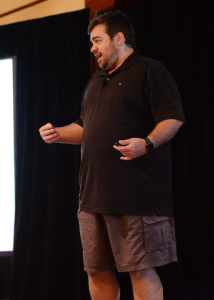 Our own Jonathan Taylor, currently a Mentor Capitalist leading Entrenext Ventures, is a serial entrepreneur who has started 7 companies, ran 5, sold 6, all while acquire and integrating 17 others.
Jonathan's comments spurred some of our features this month.  He encourages you to selectively recruit 'hard-working, smart, trustworthy' people.  Find some great interview questions used by entrepreneurs like Jonathan in 'Successful Executives' Interview Questions.'
Jonathan also encouraged us to focus on the future (80% on now; 20% on next), and reminded us that millennials want to be part of something bigger than themselves. We combined these two thoughts in our feature on how 'Millennials are Creating the Future of Work.'
Finally, Jonathan pointed out that today every business is a technology business, and we found a great resource for looking at the big picture in in IT.  Take a look at 'Information Technology: The Big Picture' for more.
Lt. Gen. (retired) Mark Hertling, currently VP of Global Strategy with Florida Hospital, brought a wealth of leadership experience from his 38-year military career.  In his last decade with the Army, Mark was the leader of Initial Military Training, and wrapped up his career as Commanding General of 40,000 troops in Europe.
Mark shared his some of the Army's 'Be – Know – Do' approach to leadership, and reminded us to beware of
the 'vertical pronoun.'  For more about this, read the Leadership Caffeine article on 'How Effective Leaders use the Personal Pronoun I.'
Mark also encouraged companies to deal with toxic leaders swiftly – 'find them, fix them or get rid of them.'  For more on this, check out 'Why Toxic Leaders Survive.'
And Mark talked about his St. Louis Cardinals, and 'The Cardinal Way.'  Learn more about this successful approach, and how it can apply to your business, in our highlights from two articles on the topic.
I'll also encourage you take a few minutes to review the video Mark shared for a different perspective on leadership that will make you smile – and is also thought-provoking.  Remember, 'the first follower transforms the lone nut into a leader.'
Finally, my favorite quote of the day was when Mark said 'This leadership thing is tough.'  It is, but I know you are all up for the challenge.  TeamStrength will keep providing resources to help in your leadership journey!